ABOUT US
HISTORY
Carolina Made, Incorporated is a wholesale distributor of imprintable sportswear. We are an independent supplier to screen printers, embroiderers, and other apparel embellishers. Carolina Made has been in business for 56 years and we absolutely love what we do! The company was founded by Jim Cherry in 1967. Originally, Mr. Cherry peddled rugs, handbags and garment bags up and down the East Coast out of the back of his van, always coming home to Charlotte, North Carolina. He eventually built extra storage space in the back of his family's home before finally settling into Carolina Made's first 2,000 square foot building. Not long after the move, Carolina Made was out with handbags and in with T-shirts. T-shirts were the hottest item Mr. Cherry could sell and were the most consistent. Since then, T-shirts have expanded to golf shirts, sweatshirts, towels, bags, hats, jackets, and much more. Our current location is in Indian Trail, North Carolina where we have been since 1991.

Carolina Made has grown remarkably in the past 56 years, but its roots remain in the family -- and our "extended Carolina Made Family." Jim's sister, JoAnna began working with Carolina Made when she graduated college and has been with the company ever since. Working with her in the accounting department are three loyal employees with 56, 46, and 33 years of experience. Our buyers began as part time workers in high school and have been with us for 45 and 37 years; and, our customer service manager has been committed to Carolina Made for 34 years. Three of Jim's children are also in the business.

As you can see, we are a tight knit family business. We feel strongly about serving our customers and feel honored to be a part of their business. So, if you are a new customer, we welcome you to the family; and, for those of you who are established customers, we thank you for your business, your continued support, and for being a part of the Carolina Made family!

MISSION STATEMENT
A dedication to delivering our customers quality wearables at a competitive price with unsurpassed service and exceptional inventories.
DESCRIPTION
Carolina Made is a wholesale distributor of imprintable goods (shirts, fleece, plackets, caps, aprons, towels, etc.).
DELIVERY TIMES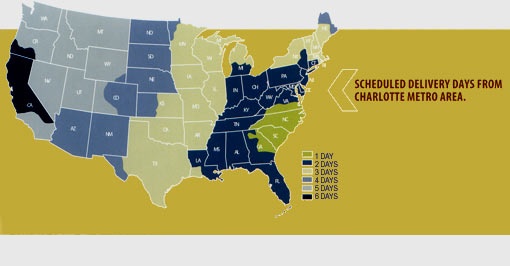 EMPLOYMENT OPPORTUNITES
Below is our Employee application form for warehouse postions.
You can print this form out and drop it by our location or E-mail the form to info@carolinamade.com
Download form here: Download

SPECIAL ORDERS
Need something we don't carry? Then we are here to help! We will gladly special order products from the manufacturers carry that we do not feature in our catalog. When the manufacturer allows, you may order anything they offer to the piece! Now that's what we call customer service!

Special orders can be drop shipped directly from the mill in most cases. All special orders will be invoiced separately from items that we carry in house. All drop ship orders usually ship the next day if the goods are in stock; however, because we have no control over when the mill actually processes orders, please allow two or three business days for your order to ship. Drop ship orders are subject to freight charges FOB mill.
Special orders totaling less than $100.00 will be subject to a $5.00 handling fee. Special orders may be returned with a 35% restocking fee. No returns on any special orders from the Sportsman Shawnee, Kansas location. Unfortunately special order items may only be returned if merchandise is defective.
For more information on our special order / drop ship program, please ask any our customer service representatives. Thank you for your business!
Special order to the piece from the following manufacturers:
24/7
Adams
Augusta
Awdis
Bella + Canvas
Burnside
Code V
Dri Duck
Inner Harbor
J•America
Jonathan Corey
LAT Sportwear
Liberty Bags
Paragon
Rabbit Skins
Sierra Pacific
Sportsman Cap Network
Sublivie
Tie Dye
Willow Pointe
Special order by the case from the following manufacturers:
American Apparel
Champion
Comfort Colors
Comfort Wash
Fruit of The Loom
Gildan
Hanes
Jerzees
Next Level